Moving FastForward
Harnessing innovation and entrepreneurship to advance the mission of the university.
Two graduate students start a company that empowers doctors to conduct physicals through a smartphone. A faculty member licenses a technology that uses 3-D hydrogels to accelerate the healing of wounds. A team of undergraduates launches a startup that helps at-risk patients access food, mental health services, and community resources.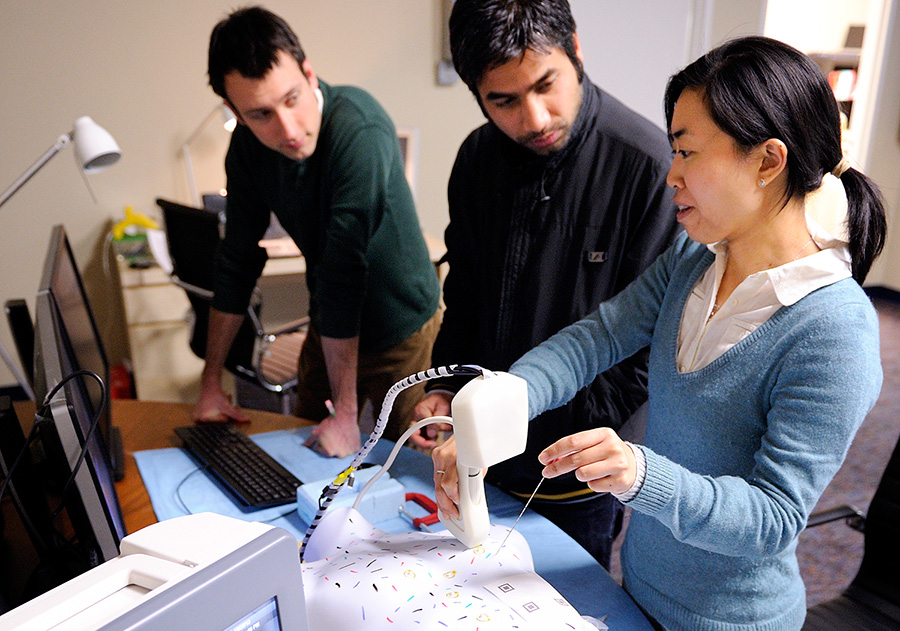 These are only a few of the instances of entrepreneurship—all born of Hopkins ingenuity—that the university is looking to support through a broad range of investments in innovation, under the new Johns Hopkins Technology Ventures structure. Over the last year, the university opened a new innovation hub, invested in an incubator for socially innovative endeavors and an accelerator for health care information technologies, launched an entrepreneurship boot camp, convened a new cohort of mentors-in-residence for entrepreneurship, and created an express licensing process for faculty startups. The objective of these and the many surrounding initiatives is to knit together a stronger and more dynamic innovation ecosystem, one where interested faculty, staff, and students can translate their discoveries into marketable inventions that can change the world.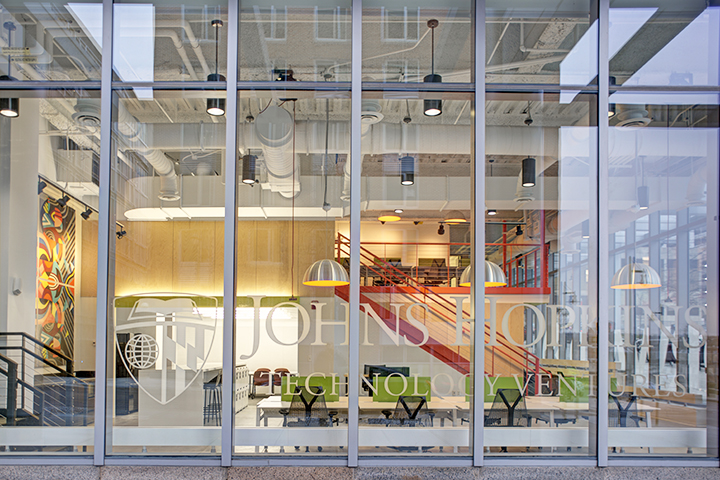 And all of the above is only the start. Last year, a faculty- and student-led Task Force completed a comprehensive blueprint of how to continue to build out this ecosystem, with investments in space, funding, and support. The university then published an action plan that set out an explanation of how it plans to respond to each of the Task Force recommendations.
The Task Force report underscored that we have some ground to make up relative to our peers. But it also highlighted the vast potential of this work: to advance our mission, to fund the next generation of discovery, and to catalyze new economic activity and partnerships in our communities—in short, to fast-forward innovation across the university.
Developments from the past year include:
DreamIt Health Baltimore: An accelerator for health care information technologies.
FastForward Homewood: An expansion of services in response to overwhelming demand.
FastForward East Baltimore: An interim incubator facility in East Baltimore.
Entrepreneurship Boot Camp: An educational program to provide entrepreneurship training for faculty, students, and staff.
Mentors-in-Residence: A cohort of outside experts to provide business advice for entrepreneurs.
Social Innovation Laboratory: An incubator for the development of socially minded enterprises at the university.
I-Corps Program: A federal program to provide real world, hands-on training on how to successfully incorporate innovations into products.
Express License: A refined process to license inventions faster than ever.
Commercialization Academy: An internship program for students seeking hands-on experience with IP analysis, marketing strategy, and the competitive analysis of technology.