Supporting Our City
Investing in our city by deepening investments in its people
As President Daniels has often said, Johns Hopkins is "truly and proudly of Baltimore." Our commitment to helping our hometown thrive is evident in the success of HopkinsLocal, a holistic approach by both the university and health system to promote greater economic growth and employment opportunities in the city. Now in its fourth year, HopkinsLocal has consistently outperformed expectations to build, hire, and buy locally.
HopkinsLocal's pledge at launch was to increase its commitments of addressable construction spending to contractors that were minority-owned, women-owned, or disadvantaged business enterprises to 20 percent by the end of fiscal year 2019—it hit that mark two years ahead of schedule. Since 2016, Johns Hopkins has committed more than $165 million in construction projects to those targeted groups.
In its pledge to employ more local residents, Johns Hopkins hired 1,017 people from city neighborhoods with high poverty and unemployment rates, and from areas around Johns Hopkins campuses, into targeted entry-level positions. Johns Hopkins also hired 402 returning citizens, some of whom were hired into targeted positions.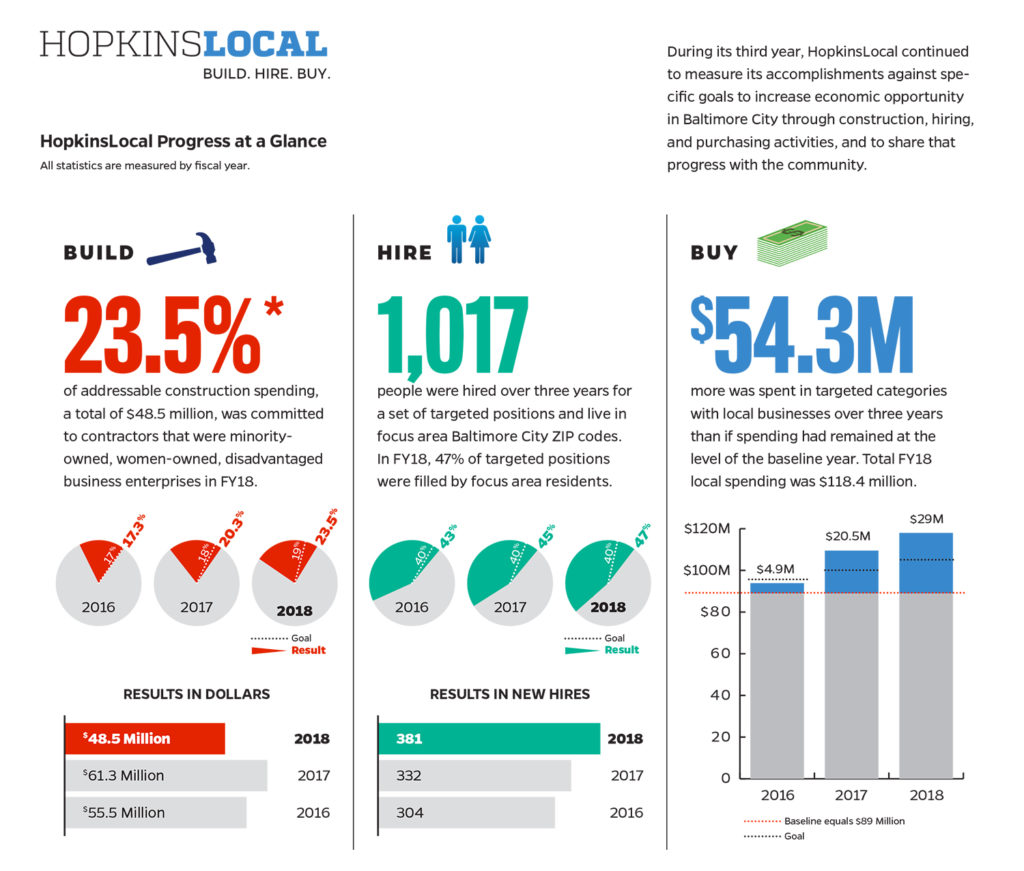 The initiative's original pledge was to increase spending with local businesses by $6 million, over the baseline $89 million. Hopkins steadily increased its target by millions of dollars each year, spending more than $118 million locally in fiscal year 2018.
BLocal—an initiative inspired by HopkinsLocal that includes Johns Hopkins and 27 other Baltimore-area companies—also exceeded its goals to build, hire, and buy locally. When announced in April 2016, the BLocal partners collectively sought to infuse at least $69 million into design and construction contracts with local and minority-owned, women-owned, and disadvantaged businesses and vendors over a three-year period. In BLocal's first year alone, partner companies invested more than $86 million locally. Four partner companies combined to hire 470 city residents, nearly three times their three-year goal.
Photo: In his 50s, Clayton Smith knew he needed a life change, so he left his job driving trucks and began work at the Johns Hopkins Hospital, where he's training to become a nurse.